Speaking at Australian Cyber Security Centre Conference 2015
G'day all – It's Yuka again here from Global Coordination Division.
I would like to quickly update about my recent trip to Canberra, Australia, where I attended the inaugural conference of Australian Cyber Security Centre (ACSC).
The event attracted more than 800 people mainly from the Australian Government and IT related businesses but also some delegates from neighbouring countries.
ACSC consists of the following cyber security related entities in Australia:
ACSC's first conference took place on 22-23 April at the National Convention Centre in Canberra, Australia.
There was a range of speakers from the above-listed organisations and also some outstanding guest speakers from academia and cyber security related vendors including:
LOCALS:
Attorney-General
ACSC Coordinator
Dept. of the Prime Minister and Cabinet
Telstra
Google
Microsoft
Cisco
University of South Wales
CERT Australia
AU Domain Administration
INTERNATIONALS:
University of Washington
iSIGHT Partners
Dell SecureWorks
Team Cymru
Dutch Government
New Zealand Ministry of Defence
JPCERT/CC
I myself was given an opportunity to speak on the second day with the title: "International Cooperation on Cyber Space from CSIRT's perspectives – JPCERT/CC's outreach – ". The presentation covered:
- Overview of JPCERT/CC
- Incident statistics
- Collaboration with overseas CSIRTs
My presentation highlighted the importance of "collaboration among CSIRTs". What we need to do in case of incidents across the border is to closely work with our counterpart in the region in question. To be able to timely respond to these urgent situations, constructing "trust relationship and network" on a day-to-day basis (before the incident happens!) is the key. That is why we often participate at international conferences and get engaged in global frameworks. We JPCERT/CC have been working both multi- and bi-laterally with various counterparts.
One of such activities includes JPCERT/CC's outreach through Asia Pacific Computer Emergency Response Team (APCERT), signing of various Memorandum of Understandings (MOU) and capacity building efforts. Especially for the last item, JPCERT/CC has dispatched experts to establish a CSIRT covering the Pacific Islands and has provided technical support and trainings. Being a close neighbour, Australia has much interest in this topic – and JPCERT/CC is also willing to assist securing the region's cyber space in any way we can.
Me delivering the talk (Photo provided by ACSC)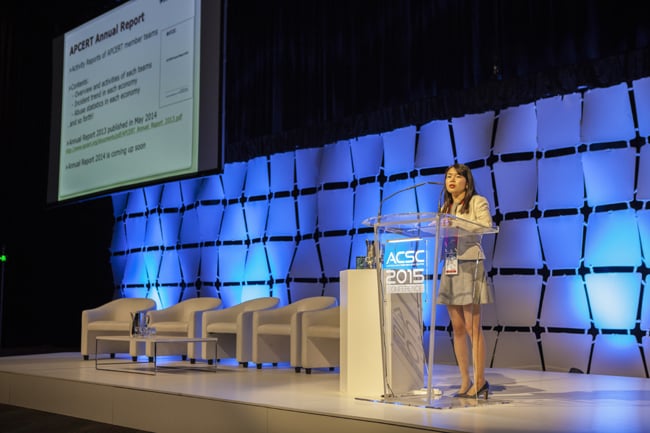 There were also participants from vendors and a range of security related businesses – see how crowded the exhibition hall was!
People and booths at the Exhibition Hall (Photo provided by ACSC)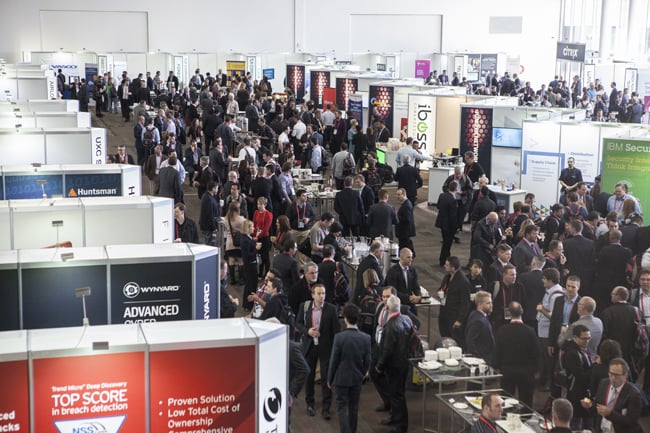 What surprised me was the event web app – it seems like some conferences these days have started using similar tools. The biggest feature is that attendees using the web app can post questions to speakers throughout the session, and other attendees can vote "like" or "dislike" to each question. Supported questions are shown on the top of the page, which will be pointed to the speakers. This saves time, visualises what's being asked (both for speakers and attendees) and allows efficient event running. Also, feedbacks on the sessions were submitted through this app – I believe this saves paper, too!
April in Canberra is a nice autumn season. I saw beautiful tree leaves turning yellow and orange. The city really was filled with lots of trees, and I enjoyed a little bit of early autumn.
As JPCERT/CC, we feel so honoured to be invited to such an important event in Australia. We hope to further collaborate with Australian cyber security related entities.
Thank you for reading.
- Yukako Uchida