Board game on Cyber Security for Awareness Raising
Hi this is Sho Aoki from Watch and Warning Group.
Have you ever tried "game-based learning"?
Learning through games is useful since it is not only fun and easy, but also provides opportunities for thinking. It has been applied widely for educational purposes. In the area of cyber security as well, there are board games released from security vendors, and they have been conducted at schools and companies.
Today I would like to introduce "SEC WEREWOLF".
Board game package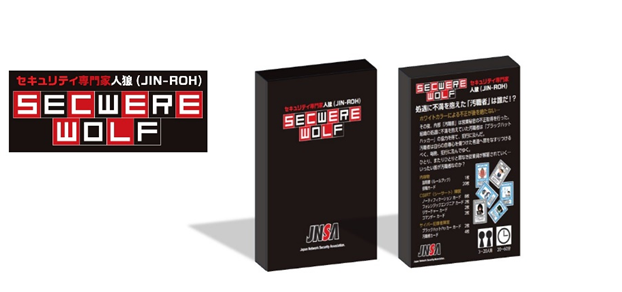 This board game was released by Japan Network Security Association (JNSA) [1], which is an NPO consisting of information security related organizations (mainly vendors) in Japan. They aim to raise awareness and provide information security solutions through various activities. One of their Working Group activities is to promote game-based learning, where this board game was developed. JPCERT/CC is also part of this Working Group.
"SEC WEREWOLF" is a board game based on a famous party game "Werewolf" (also known as "Mafia"), which is a communication type game between a group of "villagers" and "werewolves" who attack villagers. Players probe other players in an attempt to find enemies to eliminate. In "SEC WEREWOLF", "villagers" work as "CSIRT members" in an organisation, while "werewolves" are the evils in the organisation who are engaged in corruption.
STORY
"Corrupt workers" have been stealing confidential information of their organisation with the assistance from "Black hat hackers" and gaining profit out of the information. However, the management finds out about the malicious act. "Corrupt workers", who have been dissatisfied about the company's treatment, try to put the blame on other employees and get them fired. A CSIRT is launched to retrieve a peaceful workplace and deal with issues with an aim to get rid of the corrupt workers.
HOW TO PLAY (Overview)
Players pick up a role card to decide which team they belong to (CSIRT or attackers)
All the players have a conversation without disclosing their roles to figure out who are the "corrupt workers". "Corrupt workers" will also pretend to be a CSIRT member.
Out of the conversation, each player points out the person who they think is the "corrupt worker" at the end of the turn. The person who has the higher number of votes is dismissed from the game. "Corrupt workers" secretly put the blame to a CSIRT member to get them out of the game.
Process 2 and 3 will be repeated until either of the following conditions is met:
a) All the "corrupt workers" are dismissed (CSIRT wins)

b) The number of remaining "corrupt workers" becomes the same as CSIRT members ("Corrupt workers" win)
Among the board games on cyber security, "SEC WEREWOLF" is relatively easy and suitable for beginners since there is not much prerequisite. This game presents the concept of cyber security and roles within CSIRTs (some role cards have different technical skills). Furthermore, it comes with post-game materials to learn about internal fraud by looking back on how a "corrupt worker" would behave and what CSIRT members needed to do about it. It is also a good material to learn what kind of personnel a CSIRT would need to have.
A model of internal fraud "the Fraud Triangle", was proposed by D.R. Cressey, a criminologist from the US. It suggests that internal fraud can occur when the following three factors are present: Perceived unshareable financial need, Perceived opportunity and Rationalisation [2].
The post-game material provides a review of the game from the above three perspectives. Also, by looking back at the conversation that occurred during the game, the facilitator can guide participants to further discuss lessons learned from the game. Consequently, they can consider what sort of environment they need to establish/maintain to keep their workplace from such fraud.
Facilitator explaining about internal fraud based on the triangle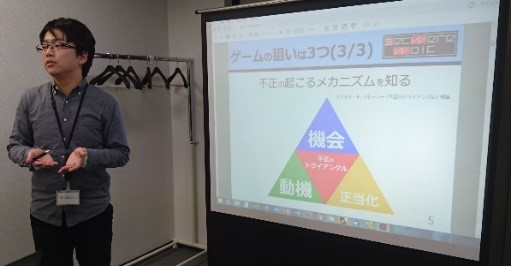 The Working Group designed this game for people who are not familiar with cyber security. It is often said that cyber security operations are difficult to draw attention from employees unless they are actually involved. Given the current situation where cyber security is a hot topic not only for organisations but also for individuals, it is important to raise security awareness to wide range of employees and users. This board game provides a good opportunity to familiarise the players with the concept of cyber security and the role of CSIRTs.
Role cards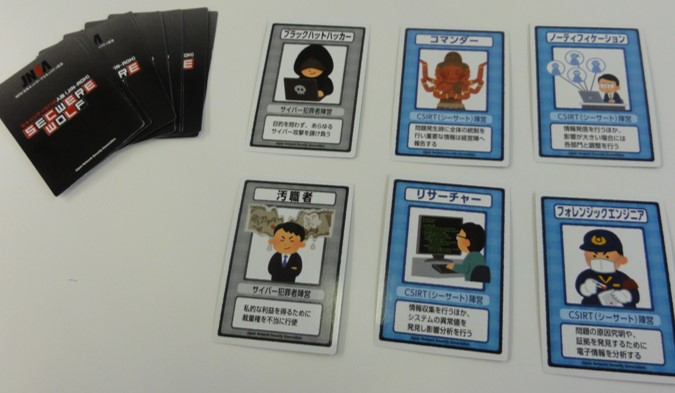 Trial at JPCERT/CC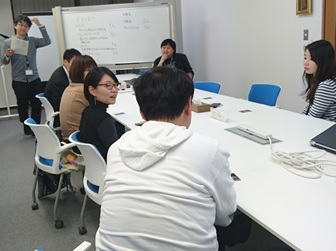 To fully utilise this game, it is also important to develop game facilitators. This role is important in presenting the knowhow in cyber security, how CSIRTs work and the components of CSIRT employees, besides just leading the game.
There is another board game about initial response to cyber incidents, which the Working Group is planning to release in the coming Fiscal Year. JPCERT/CC is willing to assist awareness raising activities through the Working Group.
- Sho Aoki
Translated by Yukako Uchida
---
Reference:
[1] About JNSA

http://www.jnsa.org/en/aboutus/index.html

[2] The Fraud Triangle – The Association of Certified Fraud Examiners