AfricaCERT Workshop and Training in Mauritius
Happy New Year 2015 to everyone!
I am Toru Yamauchi, Research Director of JPCERT/CC.
JPCERT/CC has been contributing to the CSIRT community in Africa in order to enhance the global cybersecurity activity. In the rapid ICT development in Africa, it is getting more important for them to accelerate human development in cybersecurity area and to establish regional cooperation especially among National CSIRTs. I would like to introduce our recent on-site training program in Mauritius by my colleague Sparky (Mr. Koichiro Komiyama) and me in late November 2014, based on JPCERT/CC's collaboration with AfricaCERT.
Outline of Mauritius and ICT
The Republic of Mauritius is an island nation in the Indian Ocean which is located about 2,000 kilometers off the southeast coast of the African Continent. The majority of the population is Indo-Mauritians. We felt that its culture is different from the African Continent because of its history.
Government of Mauritius is promoting the ICT industry as well as tourism industry. It aims to make the country an ICT hub in the Indian Ocean through the Internet and invites ICT companies from overseas. The headquarters of AFRINIC* are also located in Ebene City, Mauritius.
* African Network Information Center as the Regional Internet Registry for Africa and Indian Ocean.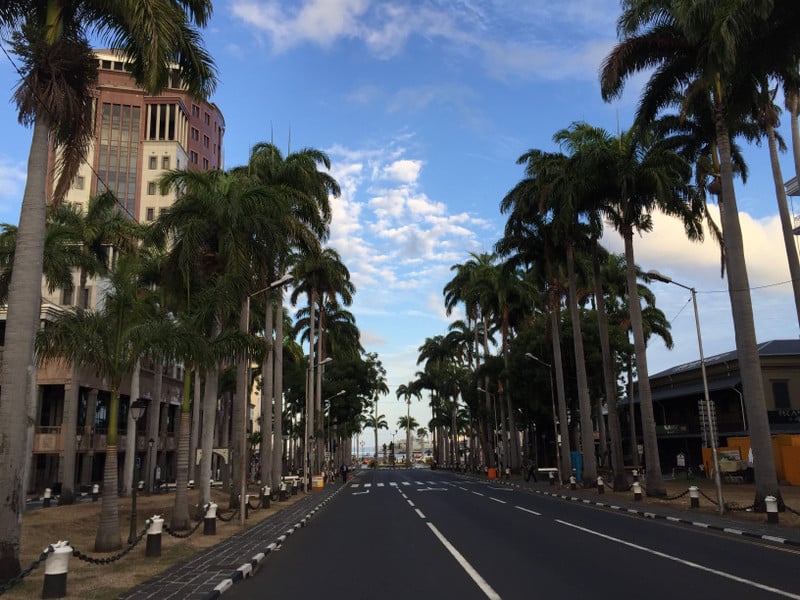 (On a beautiful street in an early morning in Port Louis, the capital of Mauritius)
Training Courses at AfricaCERT Workshop, Mauritius
We conducted a training program at Hennessy Park Hotel, Ebene City on November 25, 2014. It was organized as the AfricaCERT workshop which was one of the programs under AFRINIC 21.
AfricaCERT was officially established in 2012 as the African forum of Computer Emergency Response Teams. Currently the forum is led by Mr. Jean Robert Hountomey, Mr. Jacques Houngbo and Mr. Marcus Adomey. JPCERT/CC has been supporting their activities mainly in the CSIRT Training Courses for its technical staff. We have been conducting 10 training courses from November 2010 up to this time. In Mauritius, we also collaborated with FIRST which provides the training courses (TRANSITS) for CSIRT professionals all over the world. In the course we accommodated about 30 participants from various African regions: Benin, Botswana, Burkina Faso, Cameroon, Chad, the Comoros, Congo, Djibouti, Gabon, Ghana, Ivory Coast, Kenya, La Reunion, Mauritius, Mozambique, Rwanda, South Africa, Tunisia and Zambia. The participants include some staff working at a National CSIRT.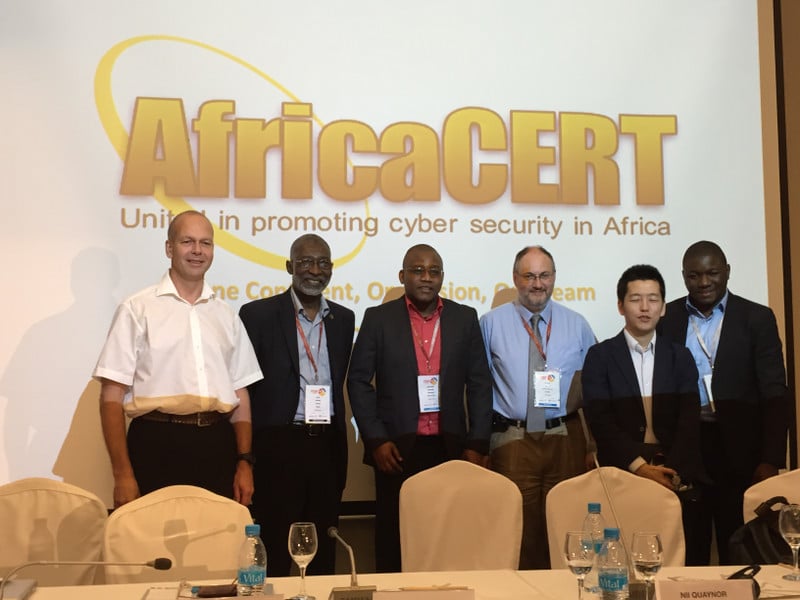 (At the AfricaCERT Workshop)
In JPCERT/CC's training, we had the following two parts:
i) Technical exercise on Apache Log Analysis (Basic and Advanced)
ii) Introduction of Cybersecurity in Japan, including JPCERT/CC's activities
Sparky led the Apache Log Analysis (Basic and Advanced) exercise. He delivered intensive hands-on training to provide practical skills and capabilities in incident response which can be utilized at their local organizations. This exercise was timely because Apache log analysis is one of the key techniques to deal with web-based attacks such as XSS (cross site scripting), CSRF (cross site request forgeries) and so forth. I hope that the trainees continue to study how to analyze the indicators like Apache log, which is needed for their CSIRT operations.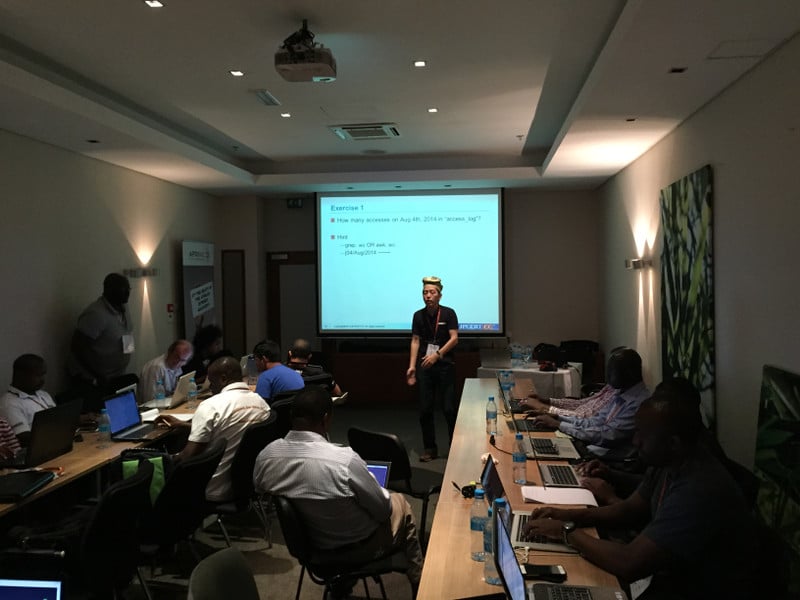 (Sparky at the training)
Subsequently, I gave a lecture on "Cybersecurity in Japan and JPCERT/CC". Especially, I introduced the "Cyber Security Basic Act", which was just approved by the Japanese Diet on November 6, 2014 to strengthen Japan's cybersecurity measures. I also talked about the roles of JPCERT/CC as a technical CSIRT and a neutral organization. Some participants asked the reason why JPCERT/CC conducts the training in Africa. We answered that we hope to develop human resources not only for Africa but also for Japan itself under the global Internet space. "Your security is my security" – it is important to pay attention to security capability of other stakeholders of the Internet in order to enhance the cybersecurity in a global level. I was personally happy that Dr. Nii Quaynor, "Father of African Internet" who has been supporting our activities from the beginning, seconded our point of view.
Friendship with the Security Community in Africa
Besides the trainings, we were able to build up a good relationship with the people of AfricaCERT. Sparky is already known in AfricaCERT community as one of the Board Members of FIRST.
On November 28, we were invited to the national event of Cybersecurity Day by Mauritian National Computer Security Incident Response Team (CERT-MU). We were so impressed by the cybersecurity policies implemented by Mauritius people.
We spent a significant week in Mauritius in supporting the AfricaCERT event. JPCERT/CC will keep in touch with them to maintain the peace and safety of the Internet in the global community. Therefore we are happy to work with not only AfricaCERT but any other National/Industry CSIRTs in this rapidly growing region.
If you have any inquiries on this topic or our CSIRT training programs, please contact us at "global-cc[at]jpcert.or.jp".
Thank you for reading.
- Toru Yamauchi