APCERT Annual General Meeting and Conference 2015 in Kuala Lumpur
Hi again, it's Yuka from Global Coordination Division and also serving as APCERT Secretariat. It's been a while since I wrote here last time.
My entry this time is about the biggest event of APCERT which we just recently attended, the Annual General Meeting (AGM) and Conference 2015 in Kuala Lumpur, Malaysia on 6-10 September. This event, hosted by CyberSecurity Malaysia (MyCERT), marked the 12th annual conference for APCERT. What made the event special was that it was held concurrently with the AGM & Conference for OIC-CERT (Organisation of the Islamic Cooperation – Computer Emergency Response Team) and also Malaysia's local cyber security exhibition. This was the first conference for APCERT and OIC-CERT to collaborate together, and members of both organisations had a great opportunity to interact with each other through a series of sessions during the week.
The event was conducted as follows:
6 September
AM: Workshops including Cyber Green
PM: APCERT Closed Session (Working Groups)
7 September
AM: APCERT Steering Committee Meeting
PM: APCERT Annual General Meeting (AGM)
8 September
AM: TSUBAME Workshop
PM: APCERT & OIC-CERT Desktop Exercise
9 September
AM: APCERT Closed Conference
PM: APCERT & OIC-CERT Steering Committee Discussion
10 September
All: APCERT & OIC-CERT Open Conference
For the APCERT AGM on 7 September, 26 Operational Members were present to discuss APCERT business matters and share information on the previous year's activities of APCERT. As Secretariat, I would like to take this opportunity to thank Microsoft for providing the fellowship for our event, which significantly supported the participation of APCERT members.
JPCERT/CC completed our 4th consecutive term as Chair at this AGM, and CERT Australia was elected for this position. Also, MyCERT was elected as the new Deputy Chair, following KrCERT/CC's completion of 4-year-term on this position. JPCERT/CC was re-elected as Steering Committee and Secretariat for the next 2-year-term and will keep contributing to the community by providing initiatives and administrative support. Also, we are happy to announce that we have been chosen to host the next APCERT AGM & Conference 2016 in Tokyo. It is also the year for JPCERT/CC's 20th anniversary since its establishment, and we hope to celebrate such a milestone together with our domestic partners and APCERT members.
A token of appreciation for completing 4 years as Chair was presented from APCERT Steering Committee, and another token for contribution as a Steering Committee member was presented from the conference host (these were surprise gifts!).
JPCERT/CC colleagues with the tokens (Photo by Shikapon)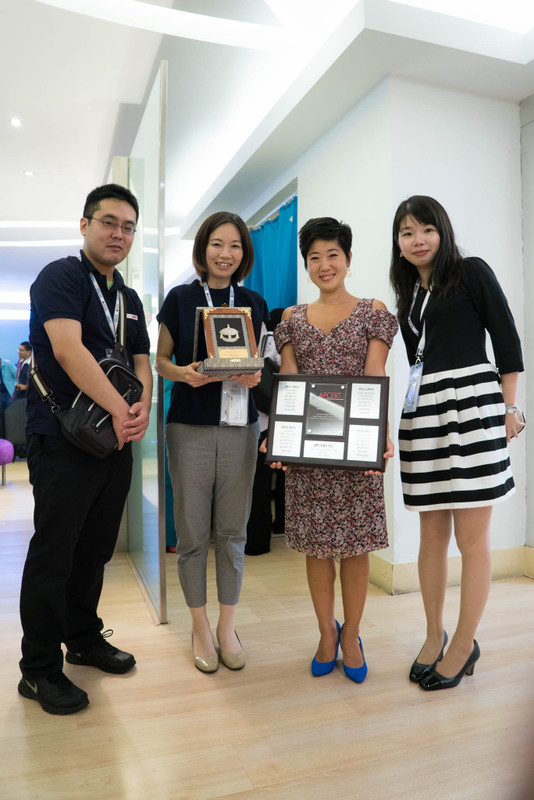 JPCERT/CC conducted TSUBAME Workshop and Cyber Green Workshop during the week. This year, TSUBAME workshop focused more on hands-on session rather than lectures, so the participants were more involved and able to familiarise themselves with the system. Our hope is that each member shares what was presented during the session and utilise it for their day-to-day incident handling activities. It was also our pleasure to invite OIC-CERT members to the TSUBAME Workshop for the first time.
For details on the Cyber Green Workshop, which was also a success, our colleague Taki wrote an article which is available on the Cyber Green website:
http://www.cybergreen.net/blog/apcert-oic-cert-annual-conference
Yurie and Taki at the Cyber Green Workshop (Photo by Shikapon)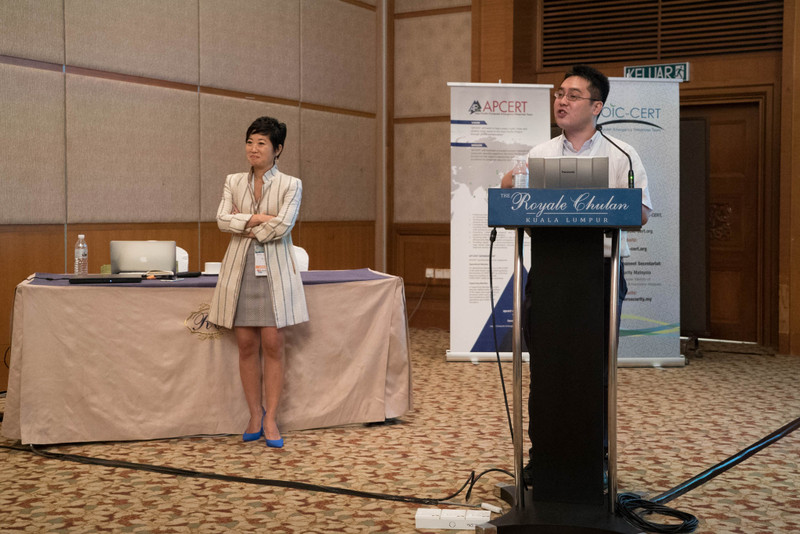 After all, it was a tense week with full of events – but indeed it was great to see some old and familiar colleagues of APCERT, and some new faces as well. I recall it really was a huge event, involving both APCERT and OIC-CERT. We would like to take this opportunity to thank MyCERT, the host team, for their hospitality and congratulate on the success of the event.
Cheers,
- Yukako Uchida